Thursday, December 24, 2015
Monday, December 14, 2015
Karen Michell Nutt ~ Producer

Valentine Collection (Title to be announced)

Accepting Submissions now for the
2016 Valentine Collection
OPPORTUNITY TO AUTHORS
VICTORY TALES PRESS

is
looking for Romantic tales for our

2016 Valentine Collection! This collection will be available in
eBook, print, and possibly audible.
February is the month of love and romance. VTP is looking for tales about the true meaning of love
; stories where love warms the heart; or short stories
where cupid plays a part in bringing soul mates together.
The short stories can be any genre as long as t

here is a

romance
and a mention of Valentine's Day. (The romance doesn't have to be the main focus,
but there must be a love interest in the story.)
The stories may have a western, fantasy, historical, mystery, contemporary,
time travel
or even adventure theme.
1. Any Valentine's Day themed story with a sweet to sensual romance.
(This means nothing explicit)
2.
Must be

a

m/f

romance
(please no erotic or erotica).
3. Word count between 7,000-20,000.
**Please, don't send us your story if these guidelines aren't met.
When do we need the stories?
Now until Jan. 20, 2016. The sooner you can email your submission
the better. We will do some light editing only, but we will need
time to read through all submissions.
Please send submissions to kmnbooks @ yahoo . com (no spaces).
Please put 2016 Valentine's Day Collection in the SUBJECT LINE.
I can't wait to read your tales! Any questions, please don't
hesitate to email me.
VTP Anthology Coordinator
~~~~~***~~~~~***~~~~~***~~~~~***~~~~~***~~~~~
Our newest release for your reading pleasure...
Ebook and Print
Amazon Print B&N Print
Six complete sweet to sensual romances from six multi-talented authors in settings that are sure to warm your heart. There's a story for everyone. Let magic of the holiday season take you away where romance awaits.
Included in this Romance Collection:

A Time to Give by Linda Swift
The small roadside restaurant where Ellen works is busy with travelers on Christmas Eve. She is counting on a bonus and tips to help pay for her boyfriend's special gift. Bruce needs a typewriter for college class work and Ellen has saved for months to surprise him. A mother and two children stop in while their car is repaired next door. Ellen learns they have a long drive ahead in a worsening snowstorm with little money and no gifts for the little ones. If Ellen helps them, she can't afford the gift for Bruce. Christmas is a time to give, but how can she choose who has the greater need?

A Christmas Wedding by Celia Yeary
Kailey Lovelace, maid of honor in her brother's Christmas wedding, hopes the best man Alex Dunn won't bolt when he sees she is six feet tall and has frizzy blond hair. At the airport, she almost loses her breath when she learns he's even taller and looks like a dream. If only he likes her enough for the week of the wedding to go smoothly.

Alex Dunn, recently discharged from the Army, can't believe his good luck when he meets his partner for the wedding. Kailey is just the right height and gorgeous, as well. He looks forward to a pleasant week in Texas. What could possibly go wrong?

One Foggy Christmas by Barbara Miller
Lady Jane Faraday is conflicted about traveling to Summerhill for the Christmas holiday since the heir to the estate, and the man who was supposed to marry her, has died. But she has other worries than her guilt over not marrying Henry St. Giles. Stephen, the younger son and the one she loves, is still fighting the war in the Peninsula. If only he had written to her she would know where she stands with his affections. She'd wait for him if he'd say the word, but she isn't sure he's still alive.
Stephen St. Giles receives leave to return home since his beloved brother Henry is dead and the war is nearly over, but what of Jane? She has answered none of his letters. Is she now his brother's widow or did she wed someone else? And why has he heard nothing from his mother? As he trudges the last miles toward home through the fog, he feels as confused and uncertain as his misty surroundings.

Jack and the Christmas Journey by Teresa K. Cypher
Tildie Janson lost her husband, Harp, three years ago, and the only joy in her life is Jack, her husband's dog. Without him she'd be lost. With Christmas around the corner, her friends step in to help her move on by badgering her into taking steps toward celebrating the holiday. They mean well, but she wishes they'd leave her alone. On one of their planned outings, a chance encounter, with a man from her past, forces her to face life again, but the prospect scares her and she retreats. She can't let go. However, Fate-or maybe a touch of Christmas magic sends Jack on a journey that changes everything.

Return Engagement by M. C. Scout
Tanner Armitage has been overseas for nearly a year serving his country and can't wait to come home to surprise the love of his life.
An Army brat, Brynn Josephs looks forward to when he gets leave to come home though she's sure it won't be this year.
Christmas is in the air but can he successfully pull off a return engagement?

Third Time's the Charm by Gerald Costlow
4th in the Modern Day Sherritt Witch series.
Trudy Macalester is a young, single schoolteacher living with her newly remarried father. She discovers her new stepmother is a witch when she stumbles upon a book of spells. When Trudy reads from the book, she accidentally summons a charming rogue bent on seduction; a man nobody but she can see or hear.
Five complete sweet to sensual romances from five multi-talented authors in settings that are sure to warm the heart. There's a story for everyone from historical to contemporary. Let the magic of myths and legends sweep you away to where dreams of midnight kisses spark an unforgettable romance.
Five complete sweet to sensual romances from five multi-talented authors in settings that are sure to fill those hot summer nights with romance. There's a tale for everyone. Fans of contemporary stories will enjoy a small town romance, a hot summer suspense, and a tale of second chances. Historical and paranormal fans will be delighted too with a post-civil war story of forgiveness, and a pre-civil war tale with a western show, secrets, and a whole lot of magic.
Four complete sweet to sensual romances from four multi-talented authors in settings that are sure to warm your heart. There's a story for everyone. Let magic and myths come alive, be swept away by the historical past, enjoy a charming contemporary setting, and be lured into the paranormal world. Love awaits...
Smashwords
Kindle
Nook
Amazon Print
B & N Print
~~~~~***~~~~~***~~~~~***~~~~~***~~~~~***~~~~~
Be sure to take advantage of our
FREE Recipes
offered in
Christmas Dessert Decadence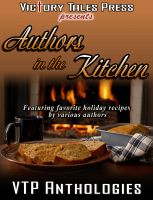 Free ebook available at various online book retailers, 99 cents at Amazon.
For Free Download click here:
Smashwords

Karen Michelle Nutt
Website
Blog
Amazon Author Page
Facebook
Twitter
Dark and gritty with a splash of humor....
Stake and Dust
is
Book One
in the
Stake and Dust series
, but the stories are standalone. There will never be a cliffhanger. :)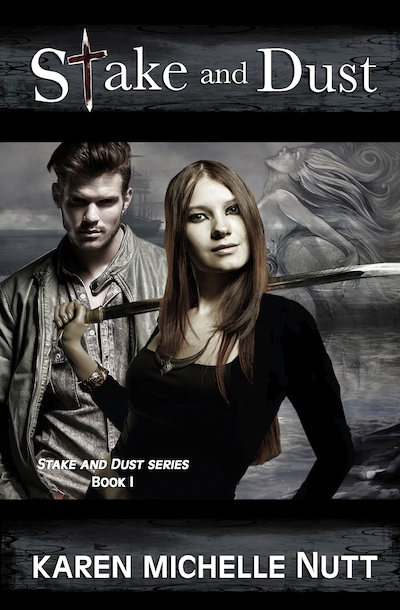 About the Book:
Stake and Dust, (Stake and Dust series, Book I)

A Lamia, a sea creature worthy of John Keats' prose, teams up with a vampire with serial tendencies. When young promising artists are found dead, the Preternatural Bureau sends Cassandra Hayes to the Hamptons to help a fellow hunter track down this lethal duo. She's only spoken to Mr. Green once on the phone and when she meets him in person, he is not what she expects. His hunting skills are spot on, but there is something the man is hiding, and she's determined to find out what it is despite the attraction developing between them.
Tremayne Graystone, a vampire from one of the oldest septs, is not pleased when he finds a dead hunter left on the doorstep of his pub. He should have never answered the hunter's phone, but someone is trying to frame him and he wants answers. Surely he can masquerade as Mr. Green, the hunter Cassandra is supposed to meet, before she figures out his true identity and stakes him. She's a Hayes, from a long line of vampire hunters, and fraternizing with the enemy is simply not done, but as they work together and follow the clues, the lines become blurred when he falls for the hunter's charms.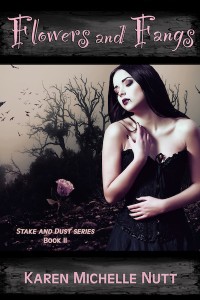 About the Book:
Flowers and Fangs, Stake and Dust series, Book II

Derek Hayes and his family are preternatural hunters. Stake and dust is their motto, but Derek has a difficult time accepting his sworn duty when Sloane McBride, his ex-girlfriend from high school, is the one he's been sent to eliminate. Once infected from a Nosferatu bite, there is no turning back. Sloane has been bitten and she will eventually change.
It proves a race against time when Derek puts aside his core beliefs and teams up with Sloane. The Nosferatu wants Sloane for his own, Derek's brothers are hunting her, and every second brings Sloane closer to changing into the very fiend they want to kill.
For more of the Graystones, here's Adryanna and Bram's story...
The Oiche Sith, the blood drinkers, forged an alliance with the Lathe Sith, a neighboring daywalker clan.
The Oiche Sith would protect them from invaders in exchange that one female a year wed one of their warriors for the blooding ritual. Unfortunately, the female Lathe Sith never survives for very long.
Adryanna, a Lathe Sith, mourns the death of her recently mated sister, but she finds solace in the most unlikely place—in the arms of Bram, an Oiche Sith. She should fear him, loathe his existence, but instead she longs for their twilight embraces. Bram admires Adryanna's strength and wishes only to protect her, even if it's from him.
If Bram cannot find a way for Adryanna to survive the blooding ritual, the romance is doomed. They seek help from Sheerin, Bram's cousin, who believes he's found a way for the Lathe Sith to survive, but others in the Oiche Sith clan do not wish for them to succeed.
Tye Casper, a.k.a. the Ghost Rider and champion bull rider, should be the happiest cowboy alive, but when he left home ten years ago to make it big, he said goodbye to the only woman he has ever loved. He's had his eight seconds of glory, but without Jolie Lockhart by his side, the wins mean nothing.
He's been given an opportunity to return home to Skeeter Blue for one last rodeo. He believes fate has sent him there and he'll have a second chance with Jolie, but nothing goes as planned. He soon realizes staying seated on a bull for eight seconds may prove much simpler than winning Jolie's heart.

Karen Michelle Nutt
Website
Blog
Amazon Author Page
Facebook
Twitter
Saturday, July 25, 2015
THIS COVER IS MADE FROM A
VINTAGE POSTCARD THAT
FEATURED AN EARLY 20TH
CENTURY TRAIN CALLED
"THE KATY"
MY BIRTHDAY AUGUST 2013.
Beyond the Blue Mountains
is my newest release from PBRJV-VTP. This novel is set in Texas in 1919--the end of WWI, then called The Great War. For various reasons, I struggled more than two years with this story.
First, I had no idea where it was going. If you're an author, you know the feeling. Some of my stories seemed to write themselves, but not this one. The main characters were perfect, so no changes there. The very beginning was good, but where would the story go after that? Little by little, I made some progress, but would soon put it aside, thinking I would never finish it.
One day, a few months ago, I had an "Ah-Hah!" moment. The reason I couldn't finish this story flashed before my eyes.
Most stories...just end. Don't they? If I write a romance, the couple get together, and we hope they'll live happily ever after, and we move on.
But life is hard under the best of circumstances. People move from one decade to another in real life and cope with whatever changes occur in the society.
This is where I hit the snag.
I worried about Guy and Teresa, because they seemed so real to me. They marry in 1919, but what happens to them during the Roaring Twenties? What befalls them when the stock market crashes in 1929 and the Thirties become the Great Depression?
In other words, I needed to have them settled in a place where I imagined they could cope with the Great Depression. Probably, the couple would prosper during the Twenties, because the war had ended and the government and the population were ready to do business with money that had previously gone to the war effort.
Please don't think I'm a bit wacky. I've gone through this with other stories, but not as much. During the Nineteenth Century, life didn't change a great deal in the West during pioneer days, so I could assume my characters would cope just fine. In fact, citizens in rural Texas the latter part of the Nineteenth Century and the early decades of the Twentieth lived much as their ancestors had. Modernization came slowly to the country towns and villages.
During the Twentieth Century or beyond, I have first-hand knowledge of the societal changes, and we all survived fairly well.
So, how did I end my story? Of course, you'll have to read the book to find out. I'll tell you the truth--even I didn't know until close to The End.
~~*~~
ABOUT THE BOOK
Guymon Reynolds arrives home to Grove's Point, Texas, in February 1919, the end of WWI. Knowing he's lost his parents and two young brothers to the Spanish flu, he's anxious to see his grandpa at the family farm. But nothing is right upon his arrival. He faces more death and destruction that resembles the battlefields where he fought in France.

Young widow Teresa Logan lives near the depot. She, too, grieves for her husband who died from the flu. Alone on a farm with two baby girls, she struggles with loneliness, back-breaking work, and sometimes, fear. But Teresa is strong and determines to care for her family and her farm alone.

Guy and Teresa meet and they easily bond, sharing grief and sorrow.

Both dream of a better life in Grove's Point, or perhaps a new beginning beyond the Blue Mountains.
~~*~~
***Read the First Chapter on the book page at Amazon

.
***eBook ($3.99) and Print ($11.49) available at Amazon:
http://www.amazon.com/Beyond-Blue-Mountains-Celia-Yeary-ebook/dp/B011J6ZGJ8/ref=sr_1_2?s=books&ie=UTF8&qid=1437841784&sr=1-2&keywords=celia+yeary
***And Smashwords

:
http://www.smashwords.com/books/view/559808
Celia Yeary-Romance...and a little bit 'o Texas