Rock your world with these two rock star romance novels, featuring bad-boy musicians and the women who love them.

Two Worlds Collided (Rock Star Romance)
(Time Travel)
Print:
$10.98
Ebook:
$2.99
About Two Worlds Collided:
Evie Reid on a whim agrees to travel back in time to 1997 to change bad boy Bellamy Lovel's path of destruction. She's smart with a college degree, but she is still fan-girl crazy for the rock band, Civilized Heathens. Evie knows despite all Bellamy's smiles and enthusiasm on the stage, he's destined to end it all on one lonely night in a hotel room unless she can change his path.
Bellamy isn't keen on having Evie as his personal assistant, hired by his band mates to watch over him, and keep him on schedule. However, there is something about the woman that sparks his interest, despite his best to ignore her. When darkness threatens to consume him, he realizes she may be the only light that will chase the shadows away.
Available at
:
Ebook:
Amazon
/
Amazon UK
/
iTunes
/
Smashwords
/
Nook
/
Kobo
In Print:
Amazon /
Amazon UK
/
Barnes and Noble
/
Createspace
/
Book Depository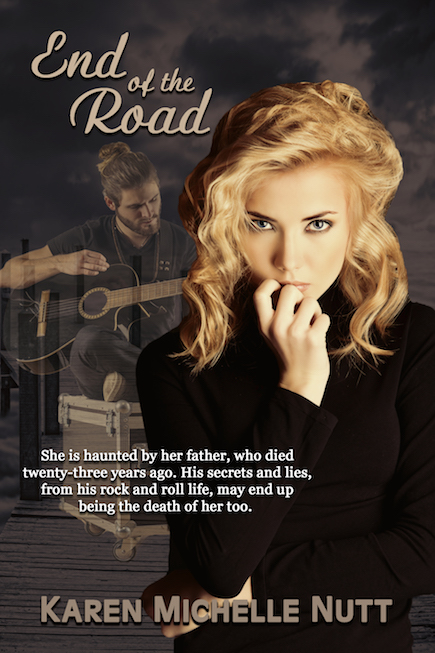 End of the Road (Rock Star Romance)

(Ghost story/mystery/romance)
About the Book:
Lars Gunner, the frontman for Silent Plaids, died 23 years ago and his death was ruled an unfortunate accident. Despite the fact he can't recall what happened to him in his last moments of life, he is convinced he was murdered. He has been trapped in limbo until his daughter, Cecilia, unearths his journal and is able to see him. She seeks help from Kaleb, a psychic, but as they resurrect the past, the secrets and lies surrounding Lars' rock and roll life just may be the death of them too.
About the Author:
Karen Michelle Nutt resides in California with her husband. Though her three children are grown and starting their own adventures, she still has a houseful of demanding pets. Jack, her Chorkie, is her writing buddy and sits long hours with her at the computer.
When she's not time traveling, fighting outlaws, or otherworldly creatures, she creates pre-made book covers to order at Gillian's Book Covers, "Judge Your Book By Its Cover".
Whether your reading fancy is paranormal, time travel or contemporary romances all her stories capture the rich array of emotions that accompany the most fabulous human phenomena—falling in love.
FOLLOW KAREN ONLINE AT:
Gillian's Book Covers, "Judge Your Book By Its Cover"-
Let us create a book cover for your next best seller!